About
The Ekstrom family settled on a 20-acre parcel in the early 1900's. Carl's dad and his sons cleared the land and began to farm. The farm was a typical depression era farm: growing produce and raising animals. Carl was the farmer of the family and eventually took over the family farm.
In the 1950's, Carl's acumen for business could see potential in the nursery industry. He phased out of produce crops and eventually grew nursery stock exclusively. Carl loved both the nurturing of a plant to maturity and producing a quality product his customers appreciated. For Carl the task of farming could hardly be called "work". He built the nursery on trust, respect, long-term relationships and service. His dream, hard work and good business practices eventually grew into what is now Ekstrom Nursery.
Don Ekstrom has worked on the family farm his entire life; he formally retired from teaching in 1984 returning to Ekstrom Nursery full-time. Carl decided to step back from the day-to-day management and became the self-proclaimed "errand boy", while maintaining a watchful eye and helpful counsel to the nursery. He was amazed by the technology changes and thrilled as he watched Ekstrom Nursery expand.
Don and his son Scott have the privilege of carrying the legacy of Ekstrom Nursery to the 4th generation. Don Ekstrom has been propagating nursery stock for over 30 years. Scott's propagating knowledge includes both work experience at Ekstrom Nursery and formal educational training. In 2013, Scott Ekstrom developed our first container yard. We are delighted to know the heritage of working together on the farm will be enjoyed by another generation.
Our family has deep roots in farming with Don's Swedish grandfather clearing the location of the main farm. The nursery has grown to over 200 acres of specialty plants produced for garden centers, wholesale distributors, growers and landscapers. Don and Scott are excited as they explore new products and growing practices to make their mark on Ekstrom Nursery's rich heritage.
We are blessed to work together in a family owned business and pray for God's blessings for our family and business.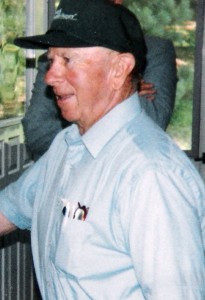 Click here for more on the life of Carl Ekstrom (1913-2009)